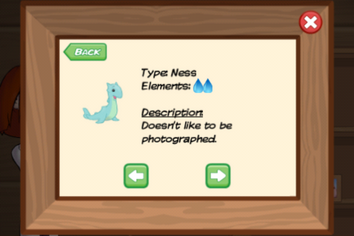 Ness is a 2nd Stage evolution achieved through feeding a Dew water crystals.
Its attacking move is Ice Lance.
Attributes Added
Edit
+5 Water
Description
Edit
Doesn't like to be photographed.
The Ness also features characteristics similar to those commonly attributed to the monster of Scottish legend. Its appearance is also comparable to that of the Plesiosaur.
Name Origin
Edit
The name Ness is a reference to the Loch Ness Monster, a cryptid of Scottish folklore. The alludes to how photographs of the Loch Ness Monster are scarce and often unable to be verified.
References
Edit